Contact Dan Adams at 269-591-7001 or apt@consultant.com.
Patis 30 nano-technology silver solution – 16 oz. bottle, $50
Click here for uses of Patis 30 silver solution
Natural, chemical-free, pain-reducing alternative to antibiotics
Support and promote immune function
Safe for both internal and external use
Naturally anti-bacterial, anti-viral, anti-fungal, and anti-microbial
New, highly effective nano-particle technology
Made from 0.003% elemental silver (30ppm) and 99.999% pure water.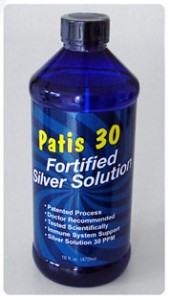 Breakthrough technology, 30 ppm silver strength!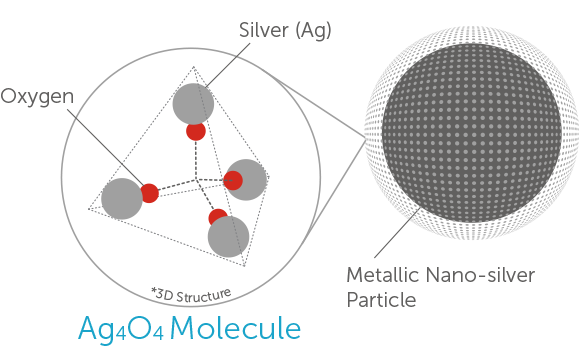 This
new technology is far superior
to the
older process known as colloidal silver
. With both manufacturing processes, the silver particle is inside a water molecule. The older process creates larger particles or particles with jagged edges which cause the particle to break through the water molecule. When the particle breaks through, it can attach itself to tissues inside the human body. Over time, using  colloidal silvers can cause a buildup of particles and may become toxic, similar to taking too much iron and other minerals.
This is not the case with the new patented process
…
ASAP Silver Gel – 4 oz. tube, $25
Buy both the 16 oz. Patis 30 and the 4 oz. ASAP Silver Gel together for $75 NOW $70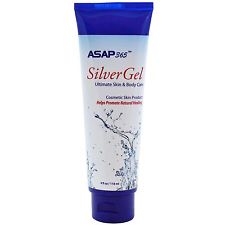 ASAP Silver Gel helps promote natural healing. 24ppm strength!
U.S. GI extreme cold temperature boots, unissued/unused condition – $129 NOW $100
Available in sizes 9–12 (regular or wide)

Keep your feet warm and dry. Rated to -20 degrees!
Perfect for hunting, snowmobiling, ice fishing, and just about any other activity where cold and moisture are a factor. These are the original Military issue "Mickey" boots. The multiple layers of wool felt provide insulation to protect your feet in subzero temperatures, and the waterproof rubber exterior keeps your feet dry and warm. Sizes tend to run about one size large. Available in whole sizes only.
Reusable power for all of your high-drain tools and toys, Rayovac Recharge batteries come pre-charged and ready to go right out of the package to power all your high-drain devices. And that's with more power, as AA rechargeables can take up to 300 photos per charge — that's 8X more than competitor's lithium batteries. With Rayovac Recharge, you'll be able to charge and reuse these batteries up to 500 times, reducing waste and saving money.
AA – 4pk Nickel metal hydride batteries – $10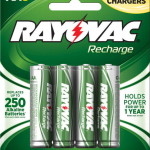 Shown to keep a 60% charge after 12 months in storage!
AAA – 4pk Nickel metal hydride batteries – $10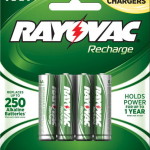 This recent advance in battery technology is both durable and cost-saving - a great choice for every home.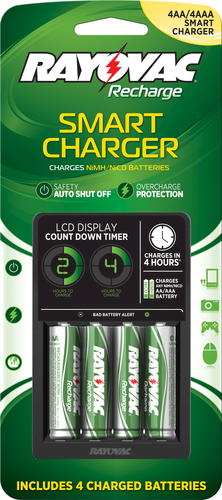 Low self-discharge technology holds power for longer
Designed to hold power for up to 1 year when not in use
Batteries come pre-charged and ready to use right out of the pack
Replaces up to 250 alkaline batteries, saving hundreds of dollars and keeping landfills free of disposable batteries
Recharges up to 500 times
Features 1,350 mAh of stored energy (276 DSC)
Heirloom SURVIVAL vegetable seed pack, non-gmo – pkg. of 3000+ (21 varieties), $50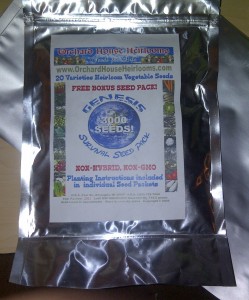 Heirloom seeds have reproduced successfully for 50+ years and can be stored in the resealable mylar for up to 10 years.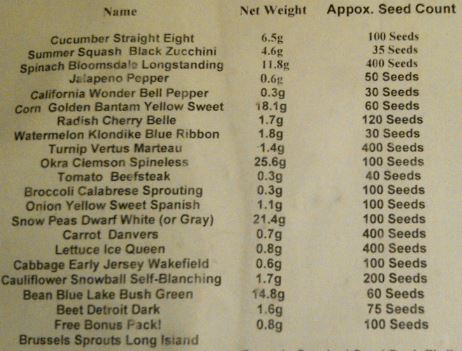 Breakdown of the 21 varieties
Heirloom FAMILY vegetable seed pack, non-GMO (30 varieties), $75 NOW $60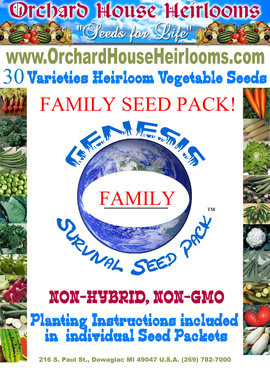 Heirloom survival HERB seed pack, non-gmo – pkg. of 700+ (10 varieties), $25 NOW $20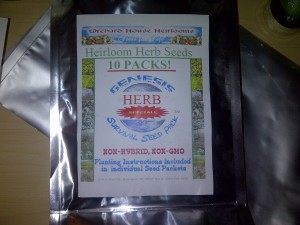 Save these seeds and never buy them again! Each seed variety comes in a resealable mylar bag.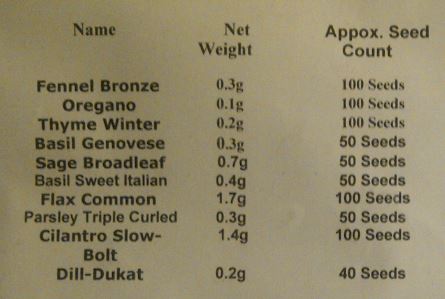 Breakdown of the 10 varieties of herbs
COMBO DEAL #1—BUY BOTH SURVIVAL (21 VARIETIES) AND HERB SEED PACKS TOGETHER FOR ONLY $60.00.
COMBO DEAL #2—BUY BOTH FAMILY (30 VARIETIES) AND HERB SEED PACKS TOGETHER FOR ONLY $75.00.
Introducing Ancient Defense
Created with the advanced proprietary process that matches the power of ancient herbs with the latest developments in nutritional science, Ancient Defense is your choice in bolstering your body's natural defenses.
Ancient Defense has gathered more than 14 specific herbs and extracts into a complete formula that looks to both ancient wisdom and modern science. Chosen specifically for their benefits, some components found within the proprietary Ancient Defense blend include:
Echinacea
Elderberry
Ginger Root
Goldenseal Root
And many others, including a valued Yin Chiao herbal complex – all of which have been chosen for their specific benefits within the Ancient Defense formula
Ancient Defense, wellness blend – 2 oz. bottle, $20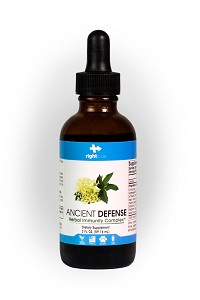 It's also important to understand the ingredients that were not allowed within the Ancient Defense formulation. We avoid problem ingredients like artificial colorings, gluten, dangerous synthetic additives, and concerning chemicals like aspartame and MSG. These substances were simply not allowed within Ancient Defense.
Instead, we ensured that Ancient Defense would be a formulation that is:
Made right here in the USA
Completely gluten free
Completely alcohol free
Completely free of artificial flavors and colors
Not tested on animals
KI03 (Potassium Iodate), nuclear radiation blocker – 90 85mg tablets, $25 now $20

The shelf life is unlimited. This means that it will be good for years if not exposed to moisture or excessive heat.
Potassium Iodate tablets are used only at the time of a nuclear emergency. The tablets stop the thyroid gland from taking up radioactive iodine (I-131), which is released into the environment following a nuclear accident. I-131 is radioactive and can kill, especially children. Potassium Iodate was formulated with children in mind. It is the second generation of Thyroid blockers. It performs exactly the same function as its predecessor, KI, or Potassium Iodide, except it doesn't have the overpowering bad taste. The chemical name is KIO3.
Minimum Daily Dose:
Adults – 2 tablets
Children 3 to 12 years – 1 tablet
Children 1 month to 3 years – 1/2 tablet
Newborn to 1 month – 1/4 to 1/2 tablet
Minimum Days to Take:
3 to 14 days for adults and children, as directed by authorities
Newborn to 3 years, 1 to 3 days
Longer if needed under a doctor's care
Victorio hand-operated grain mill – $86
Grinds wheat, corn, rice, oats, barley, non-oily seeds, peppercorns, and other dry grains and spices.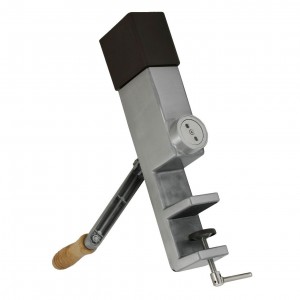 Victorio Grain Grinder
Adjustable for any desired texture from fine to coarse. Makes about 1/2 cup of flour (to the consistency of corn meal or sugar) per minute, and more than twice that quantity on coarse setting. You will be delighted with the results.
Make your own delicious whole grain breads, cereals, and other bakery items at a fraction of the cost of store-bought. Cone-shaped grinding burrs are self aligning, made of cast stainless steel, and precision machined to insure long life and smooth, even milling.
Saves you money while providing fresher, healthier foods. Stores easily in a drawer or cupboard and is always handy when you need it.

Strike-Anywhere Matches – 3-pack, 250-count, $4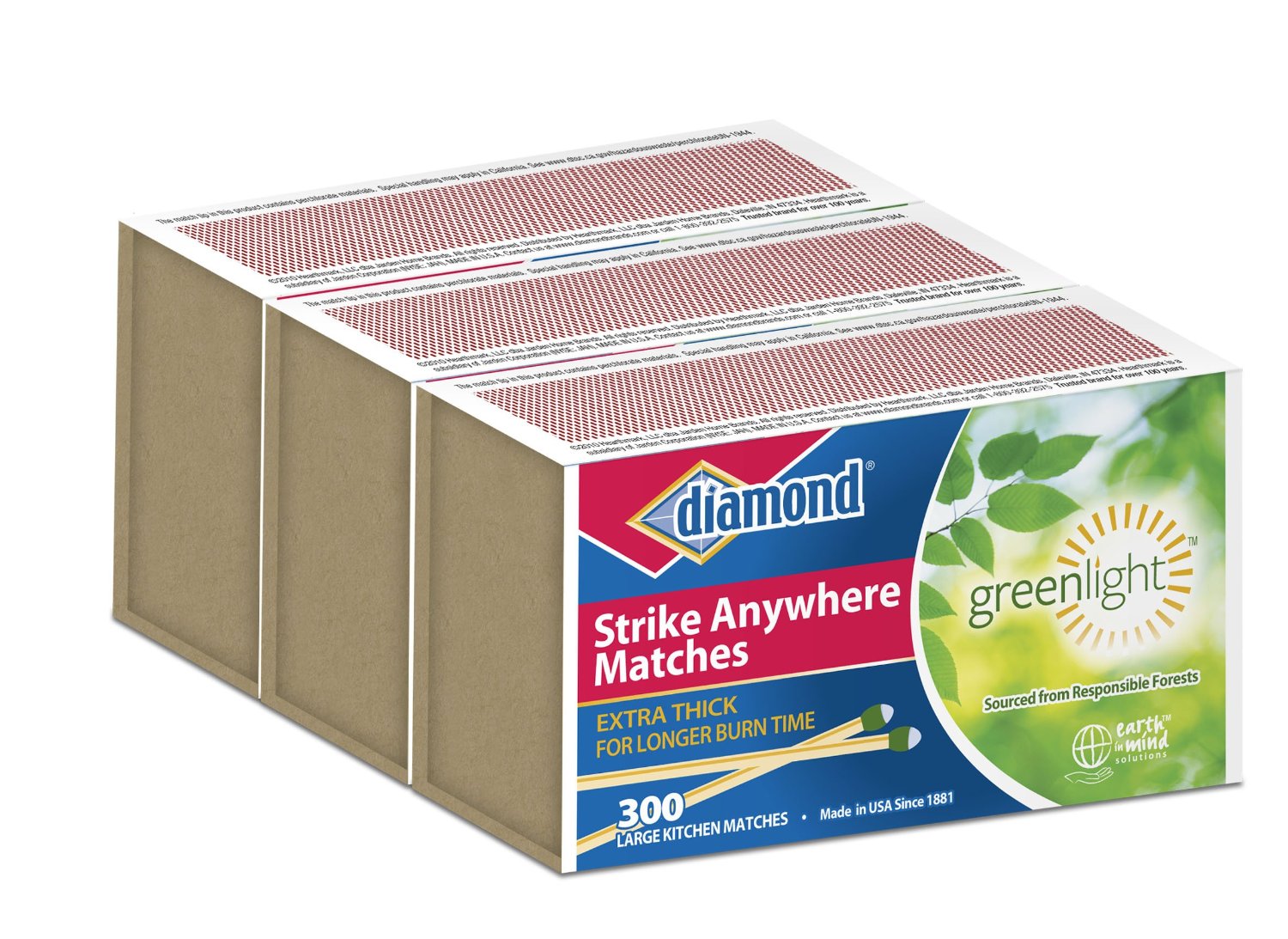 Strike-Anywhere Matches may have shipping restrictions in your area.
TO ORDER: Contact Dan Adams ~ 269-591-7001 ~ apt@consultant.com